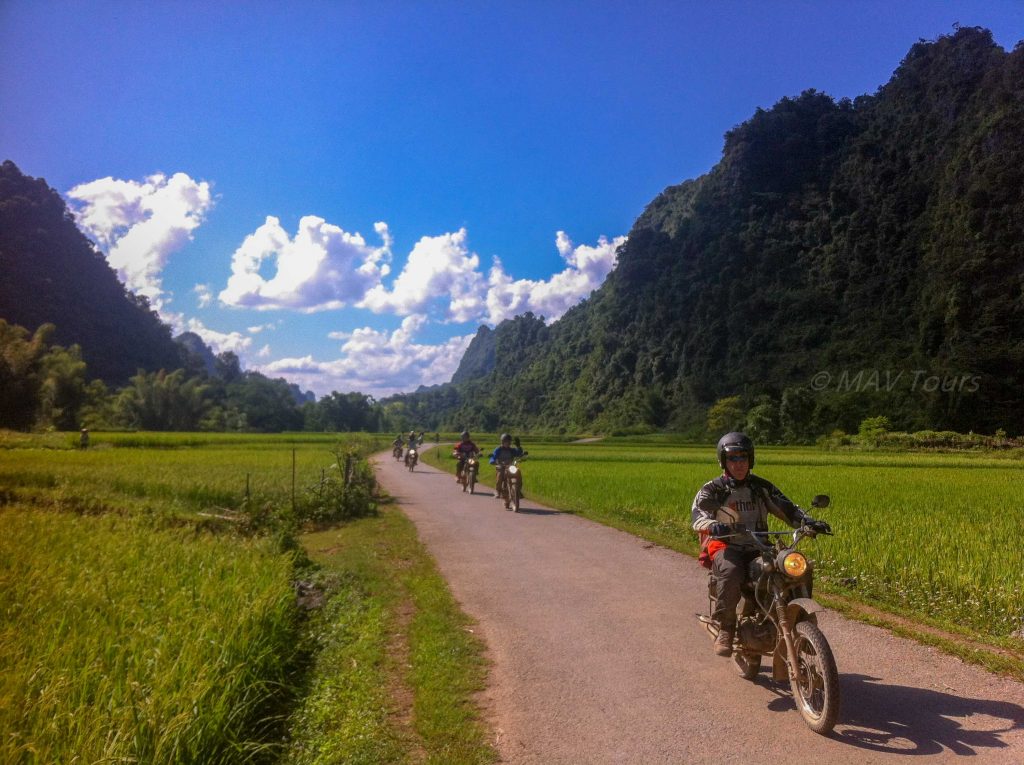 Cuc Phuong, Pu Luong, Mai Chau, Phu Yen, Nghia Lo, Mu Cang Chai, Sin Lo, Sapa, Lao Cai. (6+ Days)
The Mountain Odyssey passes through both the Cuc Phuong National Park and Pu Luong Nature Reserve before climbing up into the Hoang Lien Son Mountain range, the most eastern extremity of the Himalaya's to reach the highest mountain in Indochina, Fansipan Mountain.
We'll ride through an incredible diversity of different landscapes, varying from Jungle, valleys of rice terracing, mountains of tea plantations and plateaus with great biodiversity.  
Expect an adventure into a world of wonder as we ride through medieval landscapes with farmers tending their buffalo and working the land, tasty spreads of different Vietnamese foods along the way and evenings spent  in a mix of Stilt Houses and Hotels, all with modern facilities. 
The Mountain Odyssey is one of our most beautiful motorbike adventures, taking Nature Reserves, National Parks and the lush valleys surrounding the Hoang Lien Son mountains during a 6 – 8 day tour.
This tour as with all tours can be changed to suit the group, with everything from winding small mountain roads and paths to the full off-road experience with river crossings and buffalo trails.  The routes are flexible and can be changed at a moments notice, depending on what you'd like or enjoying the most.  The routes change through the year, depending what there is to see each season and we'll often take a route in the opposite direction to take advantage of the best weather forecast or season.
Our accommodation will be a mix of Hotels ,where we can walk into town for dinner to taste some local specialties and Vietnamese stilt houses where the families will put on a delicious spread of home cooked dishes.
Please see the map to the right which illustrates our route on this tour:
| Days on tour | Minsk 125cc | Honda XR 150cc | Honda CRF 250cc |
| --- | --- | --- | --- |
| 6 days 5 nights | US$ 1,200 | US$ 1,320 | US$ 1,440 |
| 7 days 6 nights | US$ 1,400 | US$ 1,540 | US$ 1,680 |
| 8 days 7 nights | US$ 1,600 | US$1,760 | US$ 1,920 |
A deposit of 10% per person is required at the booking stage and payment of the remainder no less than two weeks prior to the tour.
For groups of eight riders or more, we will provide a complimentary backup support vehicle to carry all your gear for the whole tour which will meet us at our accommodation each night.