The
Ho Chi Minh Trail
Tour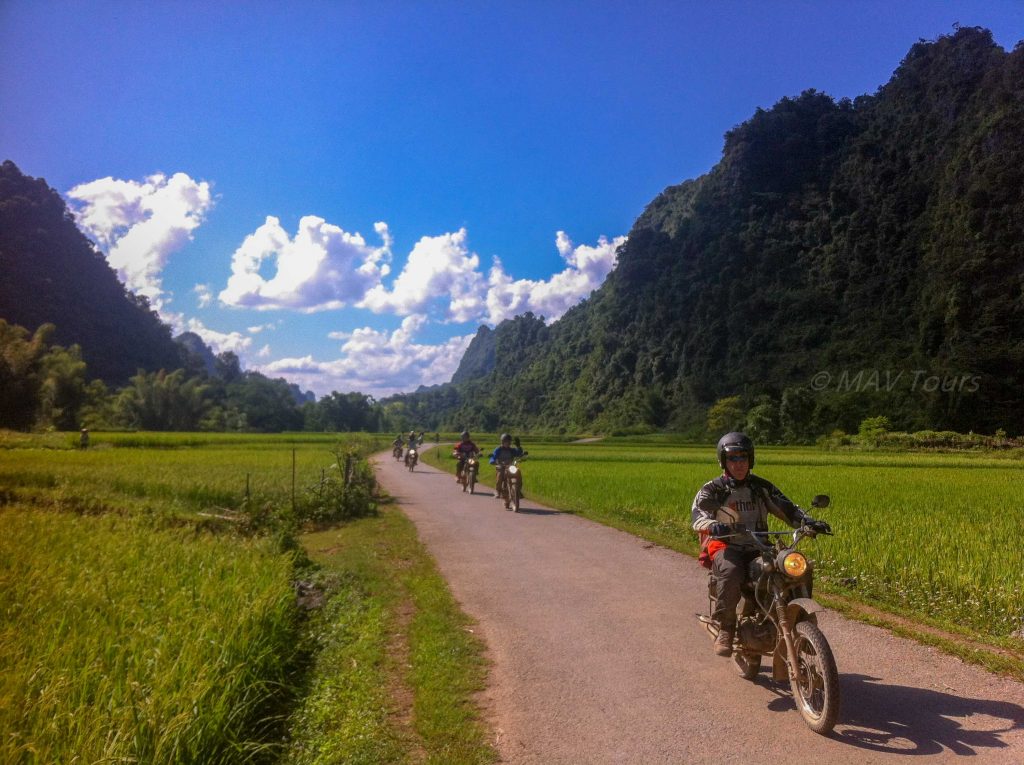 Hanoi, Pu Luong, Cuc Phuong, Vinh City, Phong Nha, Khe Sahn, Hue City, Da Nang, Pleiku, Buon Ma Thuot, Dalat, Phan Thiet, Nha Trang/Saigon (10+ Days)
This great adventure travelling down the infamous Ho Chi Minh trail will take in many of the historical sites from the Champa, Indochina and American wars, we'll ride through jungles, national parks, nature reserves, down mile upon mile of white sandy beaches. We'll boat into NVA cave systems, squeeze into the Vinh Moc tunnels, race down the infamous Khe Gat jungle airfield strip used by the NVA to protect the transport trucks on the trail, explore the famous Khe Sahn military air base and ride through the Au Shau valley not far from Hamburger Hill.  Along the way we'll enjoy the best Vietnamese food in each area, sometimes cooked by Vietnamese families at their homestays or at restaurants or resorts along the way.
There is everything for the all round biker from narrow buffalo trails, river crossings, mountain passes to the Ho Chi Minh trail winding through the jungle on empty roads to cruising through sandy beach side villages and ghost cities.
The Ho Chi Minh Trail is a fantastic tour, travelling from Hanoi to Saigon, with a little of everything from small winding mountain roads and paths to the full off-road experience with river crossings and buffalo trails.  The routes are flexible and can be changed at a moments notice, depending on what you like or enjoying the most.  The routes also change through the year, depending what there is to see each season and we'll often take the tour in the opposite direction to take advantage of the best weather forecast or season.
Our accommodation will be a mix of Hotels ,where we can walk into town for dinner to taste some local specialties and Vietnamese stilt houses where the families will put on a delicious spread of home cooked dishes.
Please see the map to the right which illustrates one route on this tour:
| Days on tour | Minsk 125cc | Honda XR 150cc | Honda CRF 250cc |
| --- | --- | --- | --- |
| 10 days 9 nights | US$ 3,000 | US$ 3,150 | US$ 3,300 |
| 11 days 10 nights | US$ 3,300 | US$ 3,465 | US$ 3,630 |
| 12 days 11 nights | US$ 3,600 | US$3,780 | US$ 3,960 |
A deposit of 10% per person is required at the booking stage and payment of the remainder no less than two weeks prior to the tour.
For groups of eight riders or more, we will provide a complimentary backup support vehicle to carry all your gear for the whole tour which will meet us at our accommodation each night.